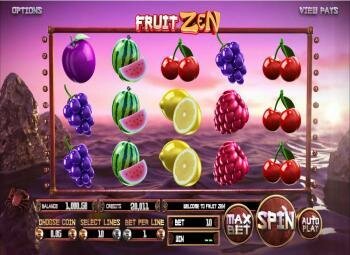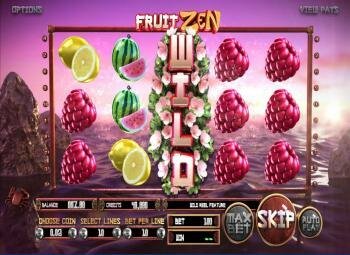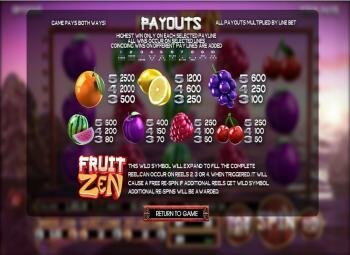 Available on computer
Yes
In short…
If you were a fan of the Fruit Ninja™ app, then you're in for a treat with the Fruit Zen™ slot machine! Straight from the Betsoft studios, this electrifying i-Slot will satisfy your cravings for fruits and veggies. To score big on this game, your mission is to collect as many matching fruits as possible on your reels to blend up some delicious smoothies! To give you a closer look at the various features of this slot machine, we've taken the liberty of crafting a comprehensive review just for you. Enjoy the read and happy spinning!
His interest
Fruit Zen™ is a unique and captivating free slot machine that stands out from the rest. With its modern and eye-catching design, this 3D slot machine combines the best of both worlds by incorporating the features of a traditional multi-line i-Slot. Boasting 10 paylines and 5 reels, Fruit Zen™ offers a seamless and immersive gaming experience. However, what sets it apart is its simplicity and user-friendly interface, making it a perfect choice for players who appreciate visually stunning slot machines that are also easy to navigate. Let us now delve into the details of its single bonus feature, which adds an extra layer of excitement to the gameplay.
The developers at Betsoft have truly outdone themselves with the 3D graphics in this slot machine. The lifelike appearance of cherries, watermelons, apricots, grapes, raspberries, lemons, and prunes is simply stunning. It's a visual feast for the eyes. And if you're fortunate enough to trigger the Wild bonus, you'll be treated to an explosion of cherry blossom flowers on your reels. It's truly delightful. However, the presence of the ocean in the background is a bit puzzling. While the gentle movements of the waves are aesthetically pleasing, they don't quite fit with the theme. Perhaps Betsoft wanted to convey a sense of Zen with the ocean spray. Despite this minor inconsistency, the overall result is aesthetically pleasing and impressively realistic, thanks to Betsoft's skillful visual animations. Unfortunately, the same cannot be said for the soundtrack of the slot machine. It seems to have been lifted from one of Indochine's lesser tracks. For the sake of your ears, we recommend playing Fruit Zen™ with the volume turned down.
Its bonuses
Enjoying a single but highly rewarding bonus is a rare treat when playing the Fruit Zen™ slot machine, as we mentioned earlier in this review. Betsoft has made the wise decision to prioritize quality over quantity, ensuring that this bonus is truly worth your while. When the Wild symbol appears 2, 3, or 4 times on your reels, get ready for a breathtaking sight as it transforms an entire reel into a magnificent burst of flowers. Not only will this mesmerizing floral explosion captivate your senses, but it will also grant you the opportunity to indulge in free spins, increasing your chances of landing the maximum number of winning combinations. With such an enticing bonus on offer, it's no wonder that players are encouraged to dive right in and savor every moment of it.
Game details
| Kind | rolls | Win lines | progressive | Jackpot (tokens) | Jackpot (cash) | Max Playable Tokens | Wild icon |
| --- | --- | --- | --- | --- | --- | --- | --- |
| 3D slot machine | 5 | 10 | No | 50,000 tokens | 5 000 $ | 10 tokens | Yes |
| Multiplier | Scatter icon | Additional rounds | bet limit | Value of bets | Tokens per line | mini-game | Software |
| --- | --- | --- | --- | --- | --- | --- | --- |
| No | No | No | from 0.10$ to 50$ | from $0.01 to $0.50 | 10 | Yes | Betsoft |