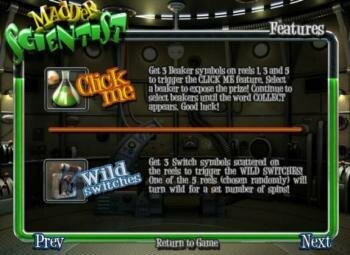 Available on computer
Yes
In short…
The day that will forever be etched in the annals of modern chemistry is January 18, 2012. It was on this momentous occasion that the brilliant mind of Dr. Prescott unveiled a groundbreaking creation capable of transmuting any substance into pure gold. This remarkable discovery catapulted the scientist into contention for the prestigious Nobel Prize in Chemistry, a feat deserving of elation and jubilation. However, fate had a cruel twist in store for Dr. Prescott, as the very products he utilized during his revolutionary experiment released noxious fumes of unparalleled toxicity, causing the unfortunate man to lose his grip on sanity. From that point on, the elusive replication of his golden alchemy became an impossible undertaking, forever elusive. Now, dear friend, the responsibility falls upon your shoulders to assist Dr. Prescott's alluring assistant in her quest to uncover the elusive chemical formula that promises untold fortune. Combine your test tubes and beakers, arranging winning combinations that will propel you towards your ultimate goal. To aid you in this scientific odyssey, we shall meticulously dissect the features of the revered Madder Scientist™ slot machine, a masterpiece crafted by the brilliant minds at Betsoft studios.
His interest
The i-Slot Madder Scientist™ by Betsoft Gaming captivates players with its captivating storyline centered around Dr. Prescott, and, as is typical of Betsoft's games, its stunning 3D graphics that transport players into a world of excitement. Betsoft's commitment to creating visually appealing products is evident in the plethora of captivating visual and auditory animations integrated into their slot machine. With meticulous attention to detail, Betsoft has crafted a truly unique and visually stimulating gaming experience.
I have analyzed numerous virtual slot games, and one that stands out is Madder Scientist™. This i-Slot boasts intricate graphics, but its functionalities are surprisingly simple to understand. With 30 paylines and 5 reels, players can enjoy this game with bets ranging from $0.02 to $150 per spin. The flexibility to adjust the bet amount allows for the possibility of maximizing winnings. Give it a try and see if you can walk away with even more winnings!
Its bonuses
On Madder Scientist™, there is an incredible opportunity to assist Dr. Prescott in his quest to discover the chemical formula that can transform any substance into gold. As you embark on this thrilling adventure, you will be rewarded with a wide range of bonuses and exciting features. One unique feature is the ability to re-spin one of the five reels after each spin, increasing your chances of landing winning combinations. This is a groundbreaking addition to the world of Betsoft games, offering unprecedented flexibility and potential rewards. Furthermore, if you manage to collect three to five vignettes featuring a carrot, a bonus game will be unlocked, allowing you to step into the mad scientist's laboratory and assist him in a special experiment. It is important to be cautious, as there may be chemical splashes during this exhilarating mini-game. We highly recommend wearing protective glasses, masks, and gloves to ensure your safety while enjoying this thrilling bonus experience. In addition to this, Madder Scientist™ also features a Wild symbol that can greatly enhance your winnings by substituting for any other vignette in the game. Moreover, there is a captivating "click me" bonus represented by a balloon and a flat bottom flask held in a Bunsen burner. By clicking on specific icons on the machine, you can unlock generous prizes and experience the excitement of this unique bonus. In summary, it can be confidently stated that Madder Scientist™ is truly a gold rush in the virtual world, offering an abundance of bonuses and thrilling gameplay that will keep you engaged and entertained throughout your adventure with Dr. Prescott.
Game details
| Kind | rolls | Win lines | progressive | Jackpot (tokens) | Jackpot (cash) | Max Playable Tokens | Wild icon |
| --- | --- | --- | --- | --- | --- | --- | --- |
| 3D slot machine | 5 | 30 | No | 2,500 tokens | 1 250 $ | 150 tokens | Yes |
| Multiplier | Scatter icon | Additional rounds | bet limit | Value of bets | Tokens per line | mini-game | Software |
| --- | --- | --- | --- | --- | --- | --- | --- |
| No | Yes | Yes | from 0.02$ to 150$ | from $0.02 to $1 | 5 | Yes | Betsoft |