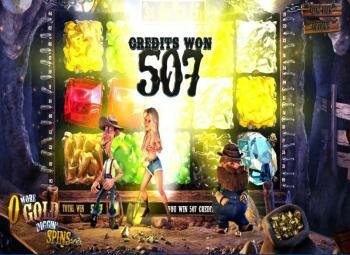 Name
More gold diggin mobile
Available on computer
Yes
In short…
Let's embark on an adventure in the mines of the Wild West, donning our trusty cowboy boots, in search of valuable gemstones. Betsoft has truly outdone themselves once again with their latest creation, the slot machine known as More Gold Diggin'. The visuals of this game are impeccably designed, showcasing the utmost attention to detail. Not only that, but the bonus features are captivating and the option to double up your winnings adds a unique twist to the gameplay. So let's delve into the intricacies of this slot machine and make sure to stay alert, or else we might end up facing some consequences, partner!
His interest
The suite of Gold Diggers™ by Betsoft brings forth an impressive slot machine, known as More Gold Diggin'™, where the captivating animations and charming characters take center stage. Within this i-Slot adventure, we encounter two gold miners - one tall and thin with a slightly comical appearance, and another short and stout, sporting a bushy red beard. However, the identity and significance of the pretty young woman remain ambiguous, until a winning combination unveils her crucial role. This slot machine's format deviates from the conventional, adding a unique twist to the overall experience. Forget about the standard J, Q, K, and A symbols; here, it's all about the diverse array of rocks and gemstones that adorn the reels. Speaking of reels, they aren't quite what you'd expect, as the stones tumble downward into the abyss, while new ones cascade in from the top of the screen. The vibrant colors of the stones and the stunning graphic details leave one awe-inspired! To add to the excitement, the Wild symbols come in the form of dynamite sticks. When they explode, the affected stones shatter, making way for new ones to fill the gaps. This means that once the game is initiated, you can potentially chain together consecutive wins without having to press the "Spin" button again! Isn't that explosively thrilling?
In the midst of this comical situation, a playful critter steals the spotlight, creating a hilarious spectacle for the two brothers. It's as if this mischievous prairie dog has made it his mission to disrupt their progress, making occasional appearances and wreaking havoc on their controls. However, amidst the chaos, whenever you manage to secure a triumphant combination of stones, the two men are overjoyed, grateful for your assistance in their endeavor.
Its bonuses
I am here to assist you with a new version of the text. Please find it below: Just like always, the game developer Betsoft is known for their generosity when it comes to slot machines, and More Gold Diggin'™ is certainly no exception. This particular one-armed bandit offers an average volatility, which means that it never gets dull: you can expect regular wins, and sometimes even big amounts! The Wild symbols in this game are represented by sticks of dynamite. As I mentioned earlier, these symbols have the ability to replace any mineral on the reels and explode when multiple stones of the same color align on a payline. When this happens, the exploded stones are instantly replaced by new ones, giving you the opportunity to form new winning combinations! As you continue to trigger these explosive sequences, you will be rewarded with multipliers that appear at the top center of the game screen. The more winnings you accumulate, the higher these multipliers become. And if luck is on your side, you might just come across something even more powerful than a dynamite stick: a barrel of T.N.T.! Aligning three of these barrels will grant you free spins as part of an exciting mini-game. Now, while these three characters may be cowboys, they certainly know how to celebrate a big win. When you manage to score a substantial sum, they will break into a joyful victory dance, while the counter goes wild and coins start flying in every direction!
In the realm of triumph, Betsoft upholds a customary practice of implementing a Double-up feature designed to amplify your winnings. Eagerly anticipating your arrival is a youthful cowgirl, clutching a deck of playing cards within her grasp. She artfully arranges five cards upon the table, the last of which is unveiled face up. This particular card signifies "the dealer's card", and in order to double your earnings, you must select a card of greater strength. Should fortune favor you and this fateful card is revealed, your winnings are doubled and accompanied by a tender kiss. However, if luck eludes you, a crestfallen expression will envelop her countenance as she sweeps her arm across the table, revealing her yearning for yet another triumph on your behalf.
Game details
| Kind | rolls | Win lines | progressive | Jackpot (tokens) | Jackpot (cash) | Max Playable Tokens | Wild icon |
| --- | --- | --- | --- | --- | --- | --- | --- |
| 3D slot machine | 5 | 25 | No | 2 330 000 | 31 250$ | 125 | Yes |
| Multiplier | Scatter icon | Additional rounds | bet limit | Value of bets | Tokens per line | mini-game | Software |
| --- | --- | --- | --- | --- | --- | --- | --- |
| Yes | Yes | Yes | 2$ Ã  100$ | 0,02$ Ã  1$ | 5 | Yes | Betsoft |