Casino games streaming on Twitch: a lasting phenomenon.
Friday, October 4, 2023

Millions of viewers worldwide have been flocking to Twitch since its inception in 2011, making it the go-to streaming service. Every day, these avid fans tune in to watch the captivating live content provided by their beloved streamers. While video games have long been the focal point on Twitch channels, casino games are now finding their place on this renowned streaming platform.
P'tit Flo, the Twitch streamer who quickly rose to fame and popularity.
This channel, created just a month ago, already has over 1000 dedicated followers!
During the past few months, a significant number of streamers have dedicated themselves to this specific genre. To gain a deeper understanding of the topic, we decided to meet with the individual currently gaining recognition as the emerging sensation of Twitch streaming, P'tit Flo, who focuses on casino games.
Just a month since its creation, P'tit Flo's channel has already attracted over 1000 followers, a testament to the immense enthusiasm it has generated. The secret behind its success undoubtedly lies in the host's unique and unconventional style, setting it apart from its more conventional competitors in the gaming world. To truly gauge the level of excitement surrounding P'tit Flo, one only needs to glance at the numbers: a growing community of dedicated followers, all drawn to its offbeat charm.
P'tit Flo: "My intention was to provide a unique offering."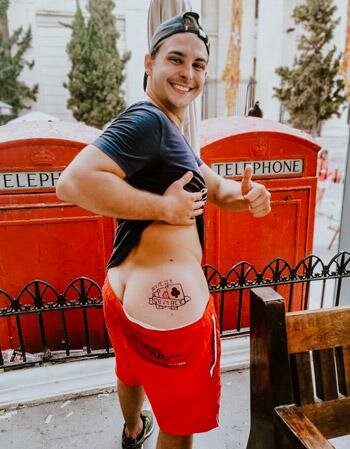 Florian, also known as P'tit Flo, is set to meet me on Saturday at 4 o'clock, and true to his punctual nature, he arrives right on time. Bursting with exuberance, the young man proceeds to share his thoughts and experiences for a solid two hours, delving into his recent employment, his ambitious dreams, and the prevalent trend of Twitch channels featuring casino games.
Hello P'tit Flo, first of all can you introduce yourself in a few words?
Hello, my name is Florian, a 27-year-old with a large forehead and a complete set of teeth. Throughout my life, I've been captivated by the adrenaline-fueled world of stunt acting. However, my true passion lies in the game of poker, which led me to venture into the realm of Twitch streaming. Aspiring to reach greater heights, my ultimate dream is to become a charismatic radio or television host someday.
Where did you get this idea to create a Twitch channel on casino games?
I've been fascinated by casino games for as long as I can remember, but I could never connect with the English streamers discussing them. It all seemed so uninteresting, lacking any excitement, and it became evident that many other viewers felt the same way. That's when I decided to bring something unique to the table, and what better way than exploring the world of casinos, which allows for greater flexibility compared to poker!
What assessment can you give us of your first month on the air?
To be honest, I never anticipated such rapid and sizable audiences. Most importantly, I derive immense satisfaction from bringing joy and laughter to people, so I am ecstatic that my efforts are being acknowledged by the general public. Initially, I began by investing my personal funds, and subsequently, I pitched my venture to various entities. Eventually, FatBoss Casino embraced my proposal, which has provided me with a means of livelihood. Additionally, fortune has smiled upon me in this inaugural month, with profits exceeding $9800. Notably, I achieved a noteworthy triumph of 2700 times the initial wager on The Sword and the Grail™, exemplifying my good fortune.
How do you keep up with 8 hour days of streaming?
Since I first started working in this industry, I've been plagued by a powerful addiction that's also rampant in the world of show business. Despite my wife's pleas for me to quit, I find myself completely powerless against the allure of Tabasco sauce.
We also noticed your pronounced taste for ritual dances…
I firmly believe that every slot machine possesses a certain sensitivity and values my unique approaches to win it over. The evidence I have gathered thus far supports my conviction, and I must confess that I am even willing to engage in a romantic encounter with a slot machine in order to maintain my streak of good fortune.
What are your ambitions for the next few weeks?
I am determined to build upon my current success by captivating an ever-growing audience. My intention is to generate fresh ideas regularly, providing novel experiences on a daily basis, and constantly pushing boundaries. To put it succinctly, this is merely the beginning, and there is much more to come from me!
Discover P'tit Flo's whereabouts now at:
♣ his Twitch channel
♣ his official website
♣ his Instagram account